"...

The watercolors remain breathtaking, and there are moments of high invention

.

"--Booklist
Return
by Aaron Becker
Release Date:
August 2, 2016
Hardcover:
$15.99
Completing the Journey trilogy (
Journey
(book one)
and
Quest
(book two)), Becker takes us back to his intricate watercolor illustrations of a land created from a child's imagination. Ignored by her father (who remains upstairs working), a little girl draws a red door and enters the land of castles and dragons, an escape that a lot of children yearn for at some point in their lives. This time, her father follows her through the door and becomes part of her adventure. The contrast of the girl's red crayon door and Becker's extensive watercolor illustrations make the new adventure even more shocking to the father and the reader. In fact, the father must be a hero to a villain who threatens to take away his daughter's crayons. Readers don't need words to feel the child's loneliness and desire for adventure or to feel the father's curiosity and love for his daughter and her imagination. It's nice to escape, but it's even nicer to be found by someone who loves you.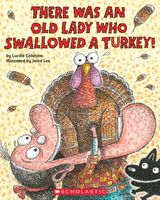 There Was an Old Lady Who Swallowed a Turkey
by Lucille Colandro, illustrated by Jared Lee
Release Date:
August 30, 2016
Hardcover:
$6.99
Perfect to read around Thanksgiving, we continue with the "There was an old lady who" saga as she swallows a turkey, a ball, a hat, a balloon, the moon, a boat, some wheels, and a horn of plenty before wishing a Happy Thanksgiving to the parade goers. Not to be taken too seriously, the old lady and her exaggerated are features are definitely meant to be silly and encourage kids to laugh at all of the strange things she will eat. For kindergarten to first grade teachers, the book could be used to teach basic introductory vocabulary and have children perform the actions as the teacher reads. Fun and lighthearted, a new Thanksgiving-themed classic.
Groovy Joe: Ice Cream & Dinosaurs
by Eric Litwin, art by Tom Lichtenheld
Release Date:
August 30, 2016
Hardcover:
$17.99
Who doesn't love a cute little dog who plays guitar and loves ice cream? Groovy Joe is so happy to have his Haagen Dogs (too cute!) ice cream and his best buddy (a sunglasses-wearing squirrel), but he is interrupted by a dinosaur who also wants some doggy-licious ice cream. Unafraid, Groovy Joe does what everyone should do: he shares his ice cream with the dinosaur. This pattern continues for several more (increasingly bigger) dinosaurs, reiterating the theme of sharing. When the ice cream is gone, Groovy Joe is creative and turns the empty ice cream container into a drum. Together, Joe, the squirrel, and the dinosaurs groove out to some awesome music (by the way, go to scholastic.com/groovyjoestories) to hear the free songs!). The illustrations portray the scope and size of the dinosaurs against the tiny frames of Joe and his squirrel pal, making Joe's kindness even more impressive. A great lesson for children to learn early: "it's awesome to share!".

"...
This wonderfully illustrated picture book will bring belly laughs from kids.
"--
Booklist
Interrupting Chicken
by David Ezra Stein
Release Date:
August 1, 2010
Hardcover:
$16.99
Every child loves a good bedtime story, but the purpose of a bedtime story is for the child to actually go to sleep. But Chicken gets so excited about the fairy tales that his Papa tells that he keeps interrupting the story and finishing the tale. Beloved fairy tales like Hansel and Gretel and Little Red Riding Hood appear in beautiful illustrated pages and are quickly interrupted by Chicken as he saves the day. The dichotomy of the illustrations, between Chicken's bedroom and the legendary fairy tales, create humor as Chicken appears in the middle of the classic pages. He's just too adorable, and his own father can't get mad at him as he promises not to interrupt the next story. Finally, Papa suggests that Chicken tell a story, which is so exciting to Chicken, but his story is interrupted by his father's snoring. Perfect for parents who love to read bedtime stories to their kids and hear a few giggles before they drift off to dream wonderful, innocent dreams.
"...

A metafictive text introduces a bevy of exciting characters

.

"--

Kirkus Reviews
Whose Story is This, Anyway?
by Mike Flaherty, illustrated by Oriol Vidal
Release Date:
May 3, 2016
Hardcover:
$14.95
Continuing with the interrupting theme, the narrator of this book is very excited to tell you, yes, you, the reader, about his story that involves him and his cat Emperor Falafel. But just as he is about to begin his tale, he is interrupted by Salty Pete who wants to tell his story of life as a pirate. Before long, the little boy is further interrupted by a dragon, a knight, an alien, a horde of zombies, and robots! Everything that a little boy loves, except our narrator just wants the story to be about him. Essentially, the book is very "meta" in that in asks what a story is and can be, and who owns a story anyway? Definitely for an older child who may be interested in writing his/her own tales, but suitable for a younger child who loves pirates and aliens and knights as the illustrations seem to jump right off the page (much like a TV cartoon). I could see this book being used by middle and high school teachers in a storytelling unit or as a creative writing prompt. Many possibilities!
"...

A handsome and rewarding picture book about the power of "'tiny creatures

.'

"--Booklist
Tiny Creatures: The World of Microbes
by Nicola Davies, illustrated by Emily Sutton
Release Date:
August 26, 2014
Hardcover:
$15.99
There are few children's books out there that really dive into scientific topics for this age group, so it's pretty cool to see this one on the shelves. While children (and most adults) know a lot about science and the animals around us, they probably don't know about microbes. Other than making us sick, I don't know a lot about them either. Microbes can be helpful and keep our bodies healthy, but they can also make us sick. The book encourages children to wash their hands and maintain a clean and healthy lifestyle so that the good microbes can do their work. There are many advantages to the existence of microbes, and Davies provides a very professional outlook at a topic not many would care about (but should!). While the book is very educational, the illustrations are equally mesmerizing. Rich with color, the paintings portray microbes in a way that will interest a young reader. Great for future scientists out there!