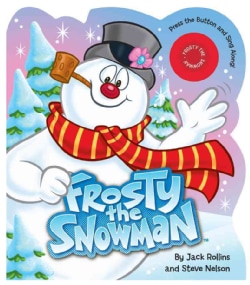 Release Date: October 1, 2014
Publisher: Candy Cane Press
ISBN:978-0-8249-1935-1
Galley: Candy Cane Press
So it's only September, but soon the classic Christmas televsion shows will run throughout many homes, bringing to life the characters we love and grew up with. Perhaps the most recognizable Christmas character is Frosty the Snowman, and everyone knows the lyrics to the famous song: "Frosty the Snowman was a jolly happy soul." Memories....
In October, Candy Cane Press releases the board book version of the classic with full color images from the movie along with the lyrics printed in both red and black bold print. Rollins and Nelson brings Frosty and friends to life with spirited visuals and easy to read text.
The board book is light and easily accessible for a small child (and older children too). Durable, this version will quickly become a staple in every child's reading routine at Christmastime, and for those times when you just can't get the song out of your head.
Whether your child can read the words or they just want to look at the pictures, Candy Cane Press proves that a classic character will always be beloved
.